Today I got a message from the IEEE. The message was like a welcoming letter to new member. But attach to it was my new IEEE membership card. And printed in it is my new level as IEEE Senior Member. Wow, thank you, IEEE !
[Update: Then I've got also a plaque sent from Piscataway, signed by IEEE President and Secretary, certifying my election to the grade of IEEE Senior Member]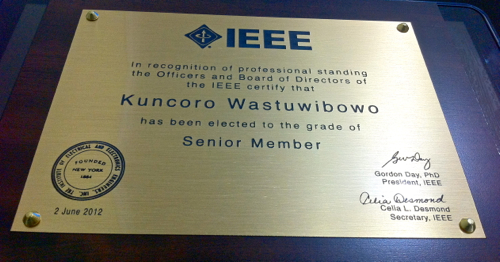 As mentioned in IEEE site, the grade of Senior Member is the highest for which application may be made and shall require experience reflecting professional maturity. For admission or transfer to the grade of Senior Member, a candidate shall be an engineer, scientist, educator, technical executive, or originator in IEEE-designated fields for a total of 10 years and have demonstrated 5 years of significant performance.
The only higher grade than Senior Member is IEEE Fellow. The grade of Fellow recognizes unusual distinction in the profession and shall be conferred only by invitation of the Board of Directors upon a person of outstanding and extraordinary qualifications and experience in IEEE-designated fields, and who has made important individual contributions to one or more of these fields.
For this elevation process and approval, I'd like to express my many thaaaaaanks to my seniors who have provided me with reference:
Prof. Dr. Dadang Gunawan, University of Indonesia
Arnold Ph Djiwatampu, TT Tel
Dr. Lukas Tanutama, Bina Nusantara University
Dr. Wahidin Wahab, University of Indonesia
And surely, many gratitudes to my colleagues, the Indonesian engineers, who have had collaborations with me during my professional years to make this elevation possible.