Tori Bennett and Ingerid Sørgaard, the EO of Carrier Ethernet World Forum I attended last year in Hong Kong, contacted me in the middle of this year, asked me to join the annual event this December, to perform the similar rituals similar like in Hong Kong last year. This year, the conference took place at Resorts World Sentosa, Singapore. I thought that at the end of the year I would have enough spare time, so I agreed. But this November I was again too busy with requests in the office, plus the preparation of Indigo Fellowship 2011 and the IEEE Tencon 2011, plus others. The result was like a déjà vu of Hong Kong.
But at last I landed in Singapore on the first evening of December. The weather was still fresh, sprinkled with spotty rain, with scattered clouds in the sky. Disregard the proposal of the conference organisers, I chose to stay at Porcelain Hotel, on Mosque Street, around Chinatown. I am indeed nosy: always try to find a different atmosphere each time I visit this small island. This time I got the right choice: Porcelain is a small hotel but fresh and comfortable. And with the MRT, I was just about 10-15 minutes only from Resort World Sentosa.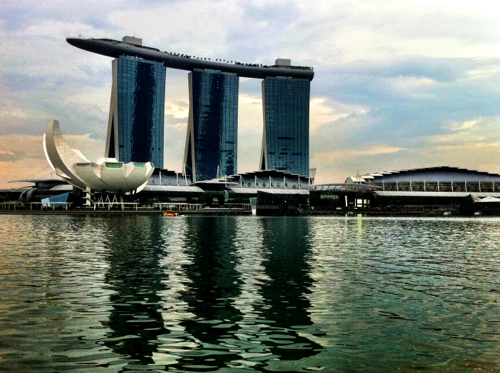 This conference series discusses the Carrier Ethernet, which is the backbone, regional, and access network to deliver information in high-speed packets. In the backbone network, CE is implemented with DWDM with tera routers. Regional networks are developed using Metro Ethernet as aggregator that is connected via DWDM or SDH. And the access networks are deployed using various schemes of optimised GPON FTTX with MSAN and XDSL. Various schemes of networks architecture and design optimisation will require interconnection and interlayer supports among network, service, and applications. This is the theme I presented at this conference, titled Service-Optimised Broadband Internet Technologies.
My presentation was scheduled on the second day, 2 December at 12:55, just before lunch & networking time. The presentation began with a general view about Indonesia and how the public consumes information here. Then I jumped into the development of tera routers and metro ethernet by Telkom Indonesia, and then also its broadband access network. IPTV is also presented, emphasized to the usage of metro ethernet, GPON, and MSAN/XDLS  in its network. For the upper layer, I described how the network planning would be linked to service development, that are expected to grow through a new partnership, incubation, and community-generated applications (Internet 2.0). Here the schemes of IMS and SDP are discussed. We intend to set up future products and business models that are personalised and customisable, integrated with the network, and easily commercialised to market (as opposed to the current expectation of startups for advertising or acquisitions only).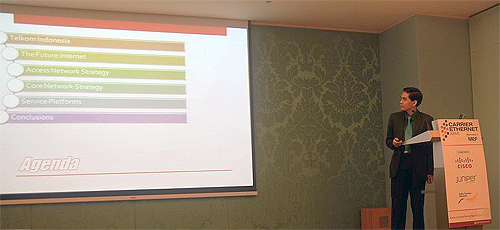 This year, I was not the only speaker from Indonesia. There were two other speakers: Mr. Ahmad Rosadi Djarkasih, who presented Enabling Cloud Services to the Enterprise; and Ms. Candra Agnesia Sulyani (aka Mrs. Djarkasih), who presented Driving Profitability in Carrier Ethernet Services for Business the previous day. Unlike last year, this year I refused Ingerid's request to speak at the panel session. But during the break session (a.k.a. networking session) I talked quite a lot to some of the participants of the conference, discussing the interesting things we had presented, and also discussed the opportunities for them to enter Indonesia IT industry.
After the conference finished, I wandered to Somerset, to visit my favorite bookstore: Harris Bookshop. I knew this unique bookstore last year by accident. I used to visit HMV at Orchard to hunt music CDs that were not easily found in Jakarta. But then HMV moved to Somerset in 2010. And next to HMV, I found Harris: a bookstore with a niche segment. Even for a fans of eBooks like me, who could easily enter Kinokuniya without buying any books (other than buying eBooks even more via the Kindle), Harris is always tempting and enchanting.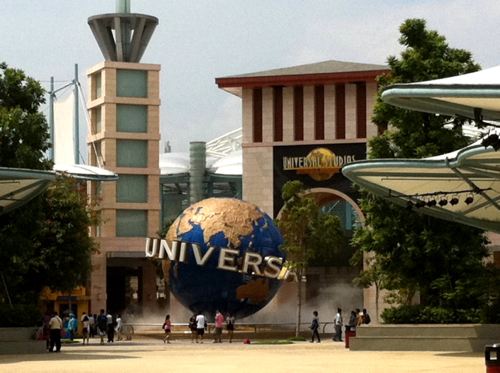 The next Carriet Ethernet World Forum will be carried out next year in Hong Kong. Again. I don't know whether I will be invited. But, with or without me, I suggest you, professional Internet network and service providers, to attend the event next year in Hong Kong.