Boarding on an Air Asia airplane, usually we'd see a typical scene: the fog wind from the AC slots. Other planes won't show a similar view. But last Thursday (April 15th), I didn't see that fog inside the Air Asia X. But I felt tired, so mindlessly I put my little backpack to its storage, then sat in the seat 26K. Warm and humid. I closed my eyes uncomfortably. One minute, five minutes, fifteen minutes. Immediately I recalled the ground crews at that Kualalumpur LCCT, from immigration officers to the officers of who-knows department that successively checked and rechecked all the documents of the passengers too carefully, even with a magnifying glass. Then the passengers had to walk along under the blazing sun to the plane parked in the middle of the port. My recollection was interrupted by a strange feeling that there was no engine noise.
Then an announcement heard, told the passengers to patiently wait a moment, because the plane had not obtained permission from the ATC to fly. Waiting. Another fifteen minutes. Whazzup? And then: "We are sorry to announce you that the British aviation authority has temporarily banned planes to land at Stansted and other airports because of safety problems caused by ash from volcanic eruptions in Iceland. Please wait until our crews prepare to bring you back to the airport. " I reluctantly opened my eyes. But I got off and walked back to the gate T48.
We had to wait for 3 hours before the next announcement: the plane was actually postponed. Then we were asked to return to Malaysian civilian area, through a gate where unfriendly immigration officers handwrote our passports with the words "flight cancelled." Then we had to form a long queue. Really long. A senior lady fell, slipped on a wet floor caused by spilled liquid that was not cleaned. We could still see the bottle flakes on the floor. Ah, a long queues. And when my turn came, I was just told to choose one of three options: to wait until the plane might fly, to change the date (but not sooner than Tuesday), or to take a refund. I chose option 1 (did I really have a choice?). Then I had to pass the arrival gate (which is otherwise forbidden) to take my luggages.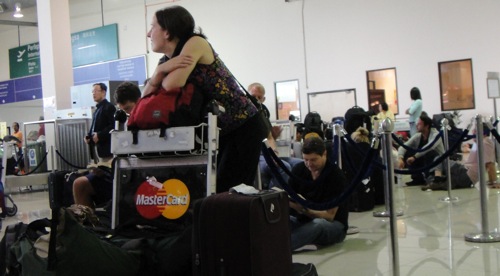 Air Asia did not provide information about the hotel to these hundreds of stranded passengers. Some fellows tried to find information, individually, to the tourist information centre. A kind officer helped me finding a transit hotel, and made a reservation. RM 100 for the hotel, plus RM 42.2 for the taxi. A careless taxi driver drove us fast without knowing the direction and dropped my stuffs. But we eventually arrived. It was nearly midnight. I fell asleep in the room which equipped only with the bed. No, no bathroom inside.
The next morning, a Friday, at 6am, an SMS from Air Asia woke me up. A flight was prepared at 11am. At 7:30 the hotel manager knocked our room. We showered, and immediately taken (freely) to the airport. At 9am, we already queued up neatly. A long queue. The Air Asia crews were friendly, but they didn't have any idea what to do with us. After waiting for the manager who made long distressful phone calls, I might check in. But then the decision was changed. So the others could not check in. We must wait for further announcements at 3pm.
Malaysians are proud of their information supercorridor. But surely the LCCT is far from the famous supercorridor. GPRS, UMTS, HSPA? Data roaming always failed (it worked in Singapore and Cebu). WiFi? None gave IP address other than 169.254.x.x. There was an Internet Lounge charges RM 25 per half hour. I reluctantly took it. There I just knew that the erupting mount in Iceland was Eyjafjallajökull. And that the ash (mix of glass and sand) flow could not be predicted until the afternoon. I sent mails to the hotels that I had reserved in the UK, also to the reporter in Yorkshire. Then I returned to the queue that had been out of shape. The officers had been replaced, still friendly, but still told me to wait until 3pm or to call a call centre number.  I had read the predictions on the BBC. So I decided to flee to Kuala Lumpur.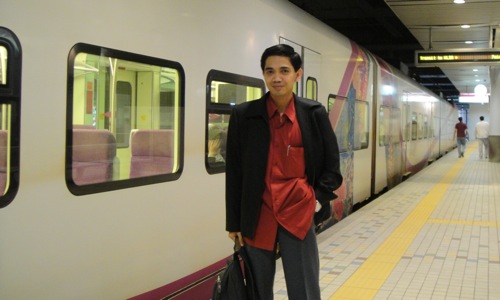 Paying RM25, we went by KLIA Express to KL Sentral. Then proceeded  to KLCC. I didn't even know what KLCC is (I planned to visit KL on May, not this month). But in KLCC we could have a meal like normal persons, enjoyed the nasi lemak, and took pictures in front of the Petronas twin towers. Calling Air Asia, I was told that there was no further info. It's annoying that Air Asia could never give predictions based on expert analysis, etc. They just monitor the information from the NATS, the current decision, and no more. A bit helpless. Yet we returned to the airport (LCCT) to take our checked-in luggages.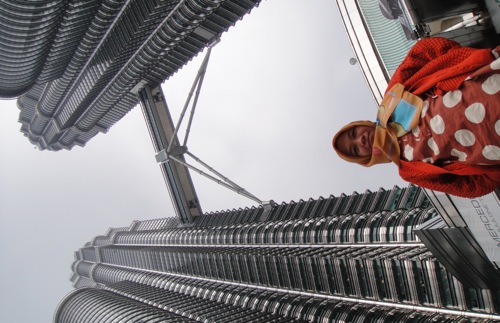 The Air Asia officers said that we should schedule our departure to the additional plane scheduled on Sunday, because on Saturday the chance of flying was very small. I went to the counter, where an officer kindly helped me changing the date for KL-London. But I had to take the printout in a long queue at the sales counter. Then having dinner at Mary Brown. It was a Friday night, and we had not reserved a hotel. All hotels near LCCT were full. But two fellows stranded passengers told us to stay in De Palma Inn Sepang (they stayed there, but then they chose to fly to Medan that night). Without making a reservation, we went by taxi (RM42.2). De Palma Inn charged RM125 per room per night (promotion fee). But there was an in-room bathroom, a TV set, coffee, and there was WiFi in the lobby. The TV shows only regular, free on-the-air channels, not a cable TV. News on TV1 was amateurish and embarrassing. They chose spooky words and tones to describe the situation of European aviation. A figure of ash everywhere without explanation of the location (I guessed it was in Iceland, not in mainland Europe). And, they did not give any predictions, other than narrative with excessive tone. The other TV show soap operas. Useless like Indonesian TV, haha. With WiFi, I explored Twitter and BBC. Mas Budi Putra had managed to escape from Berlin, but then stuck in Frankfurt, could not fly home. BBC said that the ash was still expanding. I fell asleep.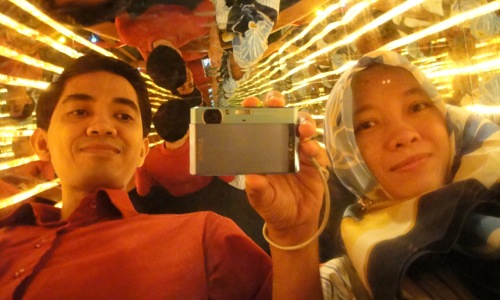 I woke up on Saturday morning with ease. Nice hotel. Then we were taken to the Nilai station by a car. We took a train to KL. There we chose to walk along the streets in the area that has classical buildings, around the Masjid Jamek. We prayed at the Masjid Jamek. Also we had an impressive visit to the Petrosains. Returning to KL Sentral, we had a rendezvous with Simon Lim, a young businessman working in WordPress-based web development. We talked long enough. Meanwhile, with the WiFi in the corner of KL Sentral, I read: the mount continuously sends ash to the sky. I decided to go back to Jakarta. There is an Air Asia sales office in KL Sentral. But the crew there really stupid, unfriendly, and asked me to pay a premium to change the date of the return flight to Jakarta. I don't believe a moron like that might wear an Air Asia uniform. Hmm, I could even buy new tickets at lower prices. I went back to the LCCT. There, the kind officers of Air Asia helped me changing the date of my return to Indonesia at totally no cost.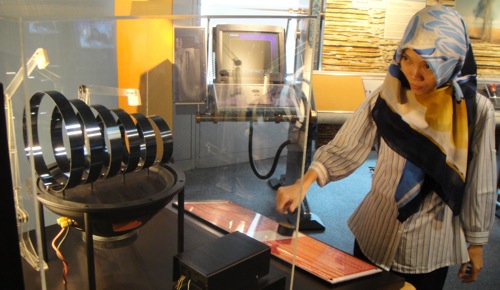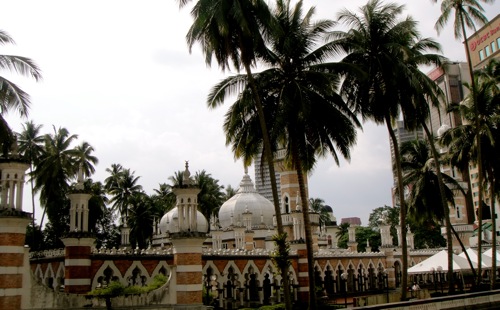 Many other stranded passengers did not as lucky as us. They did not have money to stay at the hotel, so they made fences with the trolleys at the LCCT, then slept on the floor among the trolleys. There were also some couples who slept separately without joining the large group. That night we had a meal at Mary Brown again. It is surely better than McD. One of the fellow stranded passenger entered Mary Brown. He hesitated to approach us. Seeing we were eating, he stepped back. He tried to sell food vouchers to other visitors who have not bought food yet. Being refused, he went out with embarrassment on his face. We were depressed. Really depressed. We met one of them, and forced them to accept some RM we had. That evening we returned to De Palma Inn, still annoyed each time we remembered our fellows who did not have money to sleep in a hotel, or to eat. This is crazy. Crazy. Nobody's fault, I guess. But it's crazy. Disgusting. Annoying.
On Sunday, we returned to Indonesia. And still annoyed.
Oh, while we were gone, our house was renovated, because the roof was collapsed a bit. Threatening. But because we returned too early, the renovation has not been finished. Full of dust we found. And we slept like some stranded passengers, in the house.
Monday, I returned to the office. Still could not stop thinking about our fellows passengers that are still stranded in LCCT until now.