Just a couple weeks ago, I've got an invitation from IEEE Region 10 Director-Elect, Prof Kukjin Chun. He will be the Director of IEEE Region 10 in 2017–2018; and he invited me to be a member of the Executive Committee (Excom), as the Industry Relations Coordinator.
This morning I got an Excel file from the Region 10, containing the list of the Region 10 Excom next year (starting 01 January 2017).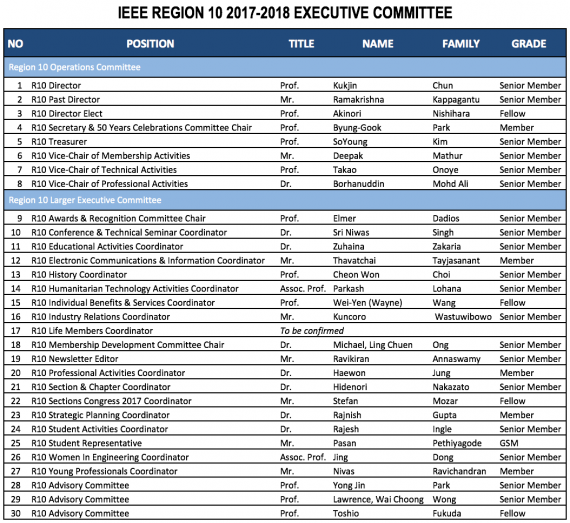 The IEEE Region 10 covers Asia–Pacific area. It covers a geographical area stretching from South Korea and Japan in the north-east to New Zealand in the south, and Pakistan in the west. It comprises of 57 Sections, 6 Councils, 17 Sub-sections, 515 Chapters, 60 Affinity Groups and 958 Student Branches. With a membership of 107,154 (about 25% of total IEEE membership), it is one of the largest regions in IEEE.
My predecessor on this position is Ms Pamela Kumar, the IEEE Region 10 Industry Relations Coordinator for 2015–2016.
Checking the IEEE Region 10 site, here's the objective of Industry Relation activities:
Promoting IEEE activities within industries.
Engaging industries and practitioners in IEEE activities
Creating a platform for practitioners to network and benefit from being IEEE members
Creating benefits for academia-industry partnership to achieve innovations.
Recruiting more members from industry.
The responsibilities include:
Liaison with business and industry associations to facilitate collaborative applied
research and development.
Providing assistance to academic research communities in transferring technologies to
industry.
Providing services and holding activities for IEEE members and industrial employees to
share knowledge and establish mutually beneficial relationship.
The activities, among others:
Creating a platform for Industry–Academia engagement during flagship IEEE R10
events – TENCON, TENSYMP, SYW and HTC conferences
Promoting programs to have practitioner oriented hands-on workshops (like MGA
Metro Area Workshops)
Engaging and working together with local industrial bodies to promote
interests of IEEE
Organising webinars on latest topics of interest to IEEE Industry members
Earmark and celebrate "Industry Day" during the month of November every year to
have a platform to celebrate association with local industries.
Surely I will need supports from all of you: the academician & business people with concerns to technology development to enhance the quality of life. Please contact me for supports & feedbacks.