At last I could catch Shel Israel's Twitterville at Aksara Bookshop here in Jakarta. Actually I have read some part of the book last month at Budi Putra's apartment. But now as I have my own book, I can read it in a non-geminian way (i.e. not-randomly). I haven't finished half of it, so I guess it is not the right time to make a review. Instead, I just want to share a quote taken from the first chapter.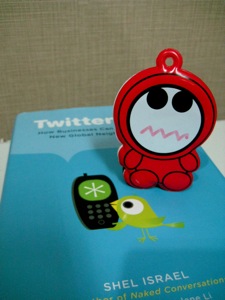 A devout blogger must know Ev William, the founder of Blogger (Pyra). That was my second platform for my blog, which I used from 2000 to 2006, before migrating to WordPress. When Google bought Blogger, Ev became an employee at Google. But then he decided to start his other startup: Odeo. It is in Odeo that Ev & other comrades develop Twitter. But when Ev was still at Google, he said he had learned two important lessons:
Get the product right and make users happy before you worry about making money. Google had done that, and for that matter, so had Pyra.
Focus is everything. Every company has to choose between what it can do and what it should do. the marketplace can be noisy and distracting. Don't let that push you off course.
Those two lessons have guided Ev even after leaving Google and running Twitter. Even after Twitter was experiencing a prolonged ascent that seemingly had no end in sight, the issues of product reliability and focus would keep coming back, and the team consistently stay focused, and continuously put product reliability in front of other considerations.